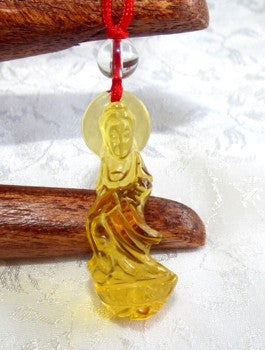 Precious and elegantly spiritual Chinese crystal Guan Yin, Buddha of Compassion, pendant with silk string.  Guan Yin is standing on an open lotus in her Peace and Compassion pose.35mm high 12mm wide and 6.5mm thick, a very nicely detailed crystal pendant. 

The silk string is through a hole at the top of the pendant.  This pendant will also accept a bail if you want to wear it on a chain.
Purchased from a Buddhist group near a rural monastery and orphanage near Shenyang, China.  The Buddhists use the profits from sales for their monastery and the orphanage.  That makes them not only "something pretty to wear", but also very spiritual as they are from Buddhists and their purpose is for doing good on this earth.
These are high quality crystal pendants from China. They are etched on the back with a pattern and are beautifully beveled. There are no scratches. They were difficult to photograph because of the reflection, but they are perfectly clear and free of inclusions, and the the actual item has more color. Crystal has the ability to vibrate at high frequencies, and it is believed that the image will be magnified into the body of the person who wears it. Citrine helps focus the mind and discover one's purpose, good for meditation. Lavender is for protection, purification, and to attract love. Green is for harmony, focus and balance. Clear crystal helps improve psychic awareness and eliminate negativity. These are difficult to photograph and the actual pendant is much nicer