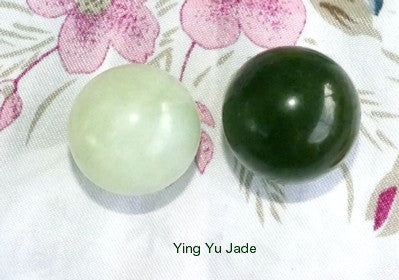 Sale
Light and dark green pair jade ben wa balls , "yin yang" energy for balance. 20 mm each. These jade ben wa balls are not drilled with hole.  . Sales are final for these, for obvious reasons. These balls are pure and natural jade and the colors will vary.
Basic instructions for using jade ben wa here
These are the best quality, genuine and natural jade eggs you can purchase.  Jade has been used for centuries for eggs and kegel exercise for women because of the qi energy compatibility.  Ying Yu Jade eggs are made sized to Chinese medicine standards by our jade carver in China who buys the jade stone directly from the jade mine and carves them to our high standards.
These are (very) personal items, and sale is final, returns not accepted.