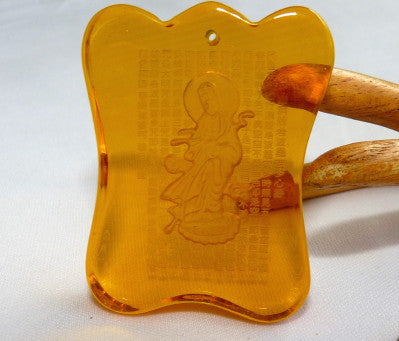 As with all the crystal pendants,  I have to tell you that the photo doesn't show the elegance of the crystal.  This  citrine color  quartz crystal pendant is beveled on all the sides to capture the light.  Guan (Kwan) Yin Buddha of Compassion and Prayer  are engraved on the reverse side to make this look like they are in the middle of the crystal.  Size is 45x33x8.5mm.  There is a hole in the top where a bale can be attached, or a "Dragon Whiskers" adjustable silk cord can be tied. Options to purchase are on the menu.
I saw  these quartz crystal pendants made up into necklaces at a wholesale jewelry show, and they wholesale price was more than $100, so they are a real deal at this low price.
The crystal pendants were purchased from a Buddhist group near a rural monastery and orphanage near Shenyang, China.  The Buddhists use the profits from sales for their monastery and the orphanage.  That makes them not only "something pretty to wear",  but also very spiritual as they are from Buddhists and their purpose is for doing good on this earth.