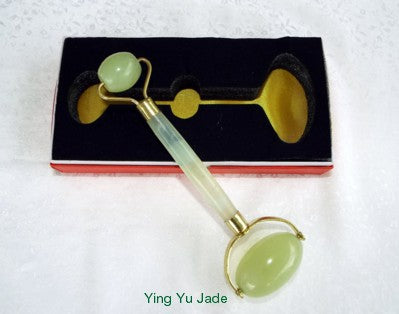 Sale
YYJ New style practitioners  jade double roller. Large roller head is bigger than standard roller, approx 45mm  long and 28mm round , and smaller roller is approx 22mm long.  Approx 6.5" overall length. Roller holder mechanism more flexible for adjustments. Each slightly different. Comes with box molded inside to keep jade roller secure.  Genuine and natural color Chinese jade, each slightly different in color and sizing because they are hand carved.
These are made in Ying Yu Jade carving shop in China and made for personal and professional use.

These are better quality than most jade rollers because we sell them world wide to spas and professional healers. Our jade carvers have 15 years experience make jade rollers to the quality people expect to receive.
The jade rollers are checked before we pack them to ship to make sure they roll smoothly and quietly.  If you need to adjust the jade roller, view the short video on the YYJ Blog.
This jade roller is clearance price because small crack on large roller that will not affect the usage.
Jade rollers are personal items, and sales are final.